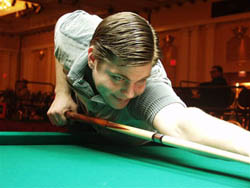 Mike Davis
Mike Davis was undefeated in a field of 66 players at the Falcon Cue 9-Ball Tour stop at Orange Ball Billiards in Rockville, MD this weekend.
Davis took the hot-seat with a 9-5 win over Nick Prinsloo. Prinsloo led the match 5-4, but Davis won the final five games for the match.
Prinsloo took the trip to the one-loss side where he ran into Pooky Rasmeloungon. Pooky had lost to Alan Duty in his first match on Sunday, but came back through the one-loss side to score four straight wins. Prinsloo fought hard, but came up short 7-5 in the end.
The final match went to hill-hill before Davis scored the 9-8 victory.
Davis took home $1200 for first, while Rasmeloungon settled for $800 in second place money. Prinsloo and Alan Duty filled out the top four positions.
The ladies division got off to a unique start on Sunday as Sueyen Rhee to Pauline Mattes in the first round. Rhee has completely dominated the ladies division with eight consecutive first place finishes. She would have to win nine straight matches on the one-loss side to notch her 9th straight tournament win.
The hot-seat was taken by Kim Jones with a 7-2 win over Malea Haake.
Haake went to the B-Side to find Rhee waiting for her. Rhee had won seven straight matches to get to the semi-finals. Haake jumped out to a 4-1 lead, but would not win another game as Rhee won four straight games for the 5-4 victory.
With Rhee seeing the finish line in sight, she defeated Jones 7-2 and 7-3 in the finals to earn the tournament win.
Rhee pocketed $425 for the win, while Jones won $275 for second. Haake and Amanda Smith filled out the top four spots.
Complete results from this event will be available at the Falcon Cue 9-Ball Tour website.
The Falcon Cue 9-Ball Tour will be at Bill & Billies in Arnold, MD for their next event on November 8th - 9th.
Photo courtesy of Mark Whiteside