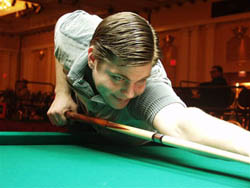 Mike Davis
The Planet Pool Tour held their second event of the new season over the weekend at First Break Café in Sterling, VA with 97 players doing battle for the $2000 in added prize money.
The hot seat went to Jim 'Shorty' Henson who rolled over 18 year old Josh Brothers 9-3. This left Henson waiting for an opponent in the finals. Brothers took the trip to the one-loss side and ran into last year's point list leader, Mike Davis, who had been mowing down opponents on the one-loss side. Davis continues his run and sent Brothers home with a third place finish.
This left Davis and Henson playing in the true double elimination finals. The first set went to Davis 9-5. The loss to Davis may have taken the wind out of Henson's sails (and the post 1AM match time didn't help either) as he fell to Davis 9-2 in the second set of the finals.
Davis won $1300 for first, while Henson settled for $800 in second place prize money. Brother and Tom D'Alfonso filled out the top four spots.
The ladies divisioon drew 24 players and without Sueyen Rhee in attendance, it was anyone tourney to win. The hot-seat was taken by Jin Hee Park who defeated Malea Haacke. Haacke then fell to Amy Rodgers who lost her first match of the event and won six straight to get to the finals against Park. Park held on and won the final set 7-6 for the win, her first on the Planet Pool Tour.
Park pocketed $375 for first, while Rodgers took home $250 for second. Haacke and Darlene Lewis filled out the top four spots.
The Planet Pool Tour will be at Bill & Billies Cuesport in Arnold, MD on March 13th - 14th for their next event. Complete details on the Planet Pool Tour are available at the official Planet Pool website at http://www.planet-pool.com/
Photo courtesy of Diana Hoppe - Pool Pics by Hoppe