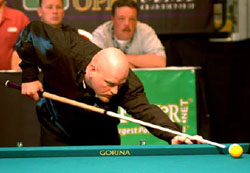 Star Billiards Mascot, Tiger
This was the first day that any players could be eliminated from competition by going two and out. Perhaps the biggest surprise was the early exit by American player Shane Van Boening. Van Boeing lost today to young Russian superstar Konstantin Stepanov 9-6. Martin Kempter of Austria also left the room today after dropping his match on the hill to Tey Choon Kat of Singapore. Another disappointment to the crowd came when local hero Demosthenes Pulpul faced off against Ronnie Alcano in a match that had to eliminate one Filipino. That would be Pulpul as Alcano prevailed 9-5.

There were smiling faces on the other end of the charts as many players have now won two matches and thus qualified for the final round of 64. Names here include Dennis Orcullo (PHI), Po-Cheng Kuo (TPE), defending champion Darren Appleton (GBR), Niels Feijen (NED), Ernesto Dominguez (USA), Lee Van Corteza (PHI), Alain Martel (CAN), Thorsten Hohmann (GER), and the British duo of Karl Boyes and Imran Majid.

Many players are now left on tenderhooks as they must live or die on a single match tomorrow. The names treading on this shaky ground include Johnny Archer (USA), Ralf Souquet (GER), Nick Van Den Berg (NED), Mika Immonen (FIN) , Oliver Ortmann (GER), Tyler Edey (CAN), Jeff De Luna, Ronnie Alcano of the Philippines and Daryl Peach of Great Britain.

Friday will set the stage for the draw into the final bracket of 64 players. Then every match will mean either progression or dismissal and the tension will only increase and the competition toughen with each round.

Today also found the press corps on a side trip over to Star Paper, home of the Star Billiards Center where the top names in Filipino pool gather to train. This 40-table room offers them free table time, free food, wireless internet access and a café with dining area. But perhaps the most striking part of the room is its mascot. Tiger, as he is aptly named, is a six-month-old Siberian tiger that has the roam of the room. Playful and beautiful, Tiger gets whatever Tiger wants, including his daily fill of chicken. No one wants Tiger walking around hungry!