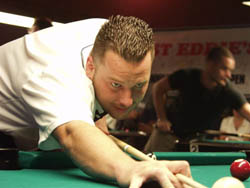 Dennis Hatch
The Joss Northeast Tour made a stop into Hippo's House of Billiards in Yorkville, New York on November 3rd and 4th. This $1500 added event brought in yet another tough field of thirty-three challengers to brawl their way through to Sunday.

When Sunday morning arrived, the winners side of the bracket reflected matches between Dennis Hatch and Dan Heidrich, and Bucky Souvanthong and Hongsavady Vongxay. Hatch and Souvanthong managed to quickly send Heidrick (9-1) and Vongxay (9-3) to the one-loss side. The hot seat match, as would be expected, was a much closer set with Hatch pulling out the win over Souvanthong 9-7.

The one-loss side saw Tournament Director Mike Zuglan knock out Damon Sobers 9-8, Hongsavady Vongxay 9-7, Norm Pomainville 9-5, and Bucky Souvanthong 9-7 before making his way to the final round with Hatch.

Since the final set is a true double elimination round, Zuglan had to score wins over Hatch twice. The first set ended up being a game for game match with the score remaining very close until it reached 5-5. At that time, Zuglan proceeded to run the final four racks and took the set 9-5. The second set would be a different story - Hatch picked up momentum after he won the first game, then played safe in the second game. After that, Hatch preceded to run five racks to yield a 6-0 score on the board. Zuglan was unable to get out on the following rack and allowed Hatch back to the table to jump on the hill first. The ninth rack went to Zuglan, but that would be the last that he would acquire as Hatch finished out the set 9-1.

File photo courtesy of Diana Hoppe.