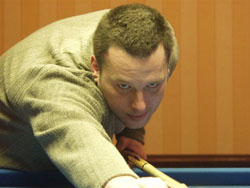 Dennis Hatch
The Joss NE 9-Ball Tour was in action this weekend at Cap's Cue Club in Syracuse, NY for a $1500 added event.
Tournament favorite Dennis Hatch dropped to the one-loss side on Saturday after an early loss to Dan Kolacz. Kolacz continued on the winners side, and Hatch got down to business on the left side of the board.
Kolacz went on to take the hot-seat with a 9-8 win over Hongsavady Vongxay. On the one-loss side, Vongxay ran into none other than Dennis Hatch. Hatch had won four straight matches on the one-loss side without allowing an opponent to get more than three games against him.
Vongxay got further than any of Hatch's previous opponents, but still came up short with Hatch winning 9-7.
This set up the rematch between Hatch and Kolacz in the finals, where Hatch would have to beat Kolacz twice in order to score the tournament win. Hatch went on to beat Kolacz 9-5 and then 9-6 in the second set of the finals.
Hatch earned $1300 for first place, while Kolacz settled for $850. Vongxay and Lester Smulowitz filled out the top four spots.
The Joss NE 9-Ball Tour will be at Turning Stone Casino in Verona, NY next week for the Turning Stone Casino Classic IV. The field for that event is already full at 96 players with a waiting list that tour director Mike Zuglan describes as "as long as my arm". Zuglan added "And my phone rings every day".
Sign-ins for next weeks event are from 6:00 PM to 9:00 PM on Friday night and the players meeting at 9:30 is required for all players not entered in the poker tournament on Friday night. The field is almost full for the poker event and interested parties should contact The Turning Stone Casino at 800-386-5366 for information.
Players signed up for the Turning Stone Casino Classic include Jose Parica, Santos Sambajon, Keith McCready, Dennis Hatch, Allen Hopkins, Karen Corr, Frankie Hernandez and Mike Davis.
Photo courtesy of Diana Hoppe - Pool Pics by Hoppe
Complete Payouts:
1st Dennis Hatch $1300
2nd Dan Kolacz $850
3rd Hongsavady Vongxay $600
4th Lester Smulowitz $400
5th/6th Ed Abraham, Walter Szydlowski $250
7th/8th Kirk Rutherford, Bucky Souvanthong $125