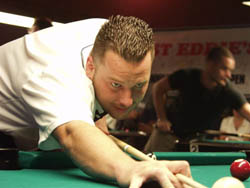 Dennis Hatch
The Joss NE 9-Ball Tour started their 2004-2005 season at Salt City Billiards in N. Syracuse, NY with a field of 38 players competing for $4540 in total prize money.
Dennis Hatch took the hot-seat with a 9-4 win over Dan Doerner. At the same time, former tour director Joe Tucker was ending Mike Zuglan's tournament on the one-loss side. Zuglan had lost his first match of the tournament and made it all the way back to 4th place before being eliminated by Tucker.
Tucker went on to eliminate Doerner in the semi-finals and earn the match with Hatch in the double elimination finals. The final match was competitive with neither player able to pull ahead by much. Tucker led 6-5 and 7-6, but in the end it was Hatch scoring the 9-8 win.
Hatch collected $1340 for first place while Tucker settled for $900. Doerner and Zuglan filled out the top four spots.
The Joss NE 9-Ball Tour will be at Renaissance Billiard Club in Quincy, MA on October 9-10 for their next event. Tour director Mike Zuglan has announced the addition of an open poker tournament to the Turning Stone Casino Classic IV on February 19th-20th. This $120 buy in tourney will be on the friday before the 9-ball event. Contact Mike Zuglan at 518-356-7163 to inquire about entering the poker or 9-ball event.
Complete Payouts:
1st Dennis Hatch $1340
2nd Joe Tucker $900
3rd Dan Doerner $700
4th Mike Zuglan $500
5th/6th Dan Kolacz, Jose Mendez $350
7th/8th Ray McNamara, Bucky Souvanthong $200

Photo courtesy of Diana Hoppe - Pool Pics By Hoppe