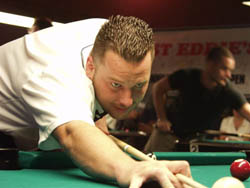 Dennis Hatch
As the old saying goes, "If you want something done right, you have to do it yourself". For weeks now, players on the Joss NE 9-Ball Tour have been wondering when someone will keep Dennis Hatch from the winner's circle. This week at Trick Shot Billiards in Clifton Park NY, tour director Mike Zuglan took on the that task. And he almost succeeded.

Things did not go so well for Zuglan early Sunday when he faced Hatch for the first time. Hatch ran away with that match by the score of 9-1. Hatch then went on to defeat Greg Antonakos 9-4 for the hot-seat.

Zuglan bounced back on the one loss side and made his way to the semi-finals, where he defeated Antonakos 9-5 to earn the rematch with Hatch in the double elimination finals.

Zuglan knew he would have to defeat Hatch twice in order to win the event, but just beating Hatch once was too big an obstacle on this day. Hatch won the first and only set of the finals 9-6 to notch his seventh win of the season.

The tour takes next weekend off, but will be at Classic Billiards in Rochester NY on March 28-29 for their next stop.