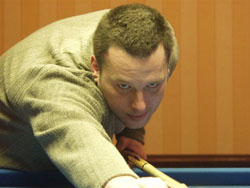 Dennis Hatch
The Joss NE 9-Ball Tour was at tour director Mike Zuglan's room The Pro Billiard Lounge this weekend for the NE 9-Ball Open XVIII. A field of 32 players took their shot at the $2000 in added prize money.
Returning on Sunday to play on the winners side were Tom D'Alfonso, last week's winner Dennis Hatch, Mike Zuglan and Bruce Carroll. D'Alfonso made quick work of Hatch 9-2 and Zuglan sent Carroll to the one loss side.
The hot seat match between D'Alfonso and Zuglan started out close, but Zuglan took control and raced to a 7-4 lead. D'Alfonso came back to take the lead at 8-7 with Zuglan then joining D'Alfonso at 8-8. A miss late in the case game by Zuglan proved to be the deciding factor and D'Alfonso won 9-8.
On the one loss side, Hatch had just eliminated Greg Antonakos 9-5 and then made quick work of Zuglan 9-2 to make his way to the finals with D'Alfonso.
The first set of the double elimination finals was dominated by Hatch as he scored a 9-0 win over D'Alfonso. The second set was much closer with both players tied at 5-5 before Hatch took over and scored a 9-6 win.
Hatch earned $1360 for first, while D'Alfonso took home $900. Zuglan and Antonakos filled out the top four spots.
The Joss NE 9-Ball Tour will be at Classic Billiards in Rochester, NY on March 25th and 26th for their next event.
The Turning Stone Classic VII on August 17th - 20th at Turning Stone Casino in Verona NY is filling up fast and interested players should contact Mike Zuglan at 518-356-7163 for more info.
Complete Results:
1st Dennis Hatch $1360
2nd Tom D'Alfonso $900
3rd Mike Zuglan $700
4th Greg Antonakos $500
5th/6th Bruce Carroll, Paul Rozonewski $350
7th/8th Tony Ruberto, Frank Sorriento $200