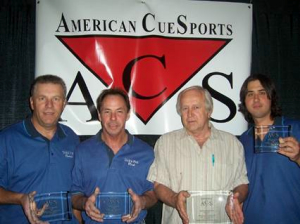 Dick's Pick - (L to R): Ron Allen, Richard White, Dick Pickle and Tim Glass
With hundreds of amateur players of all skill levels competing in a myriad of divisions during the American CueSports Alliance (ACS) Nationals at the Riviera Hotel & Casino, June 7-14, hundreds of personal sub-plots played out throughout the week.

One of them was masterminded by Dick Pickle, a 68-year old successful Las Vegas contractor, who loves pool and backs it up with the support of his fellow players at the Las Vegas Cue Club. The Cue Club, owned by Dick's friend Henry Nogiec, sent a number of teams to the ACS Nationals this year, courtesy of host league operator Greg Kuhl, and Dick's strategy of fielding quality teams in every skill division almost ran the table. While Dick patiently sweated every match as each team's official scorer, the separately-manned "Dick's Pick" teams won the national titles in Men's Master 9-Ball Teams (Ron Allen, Richard White & Tim Glass), Men's Standard 8-Ball Teams [for lesser-skilled players] (Errol Sharron, Ken Miller, Cortez Woodson, Rocky Phipps and Bruce Barrette) and took 3rd-place honors in Men's Open 8-Ball Teams (Tom Alvey Jr., Henry Nogiec, Tim Glass, Ron Allen, Richard White and Dick Pickle).
Other scenarios included two former master players – Barbara Yeager (Suffolk, VA) and Kit Dennis (Ridgefield, WA) – reclaiming the top-tier status again via titles in the Women's Open 8-Ball Singles and the Women's 9-Ball Singles respectively. Both also anchored their teams' stellar play in the Women's Open 8-Ball Teams division, as Dennis's Nitehawk (incl. Becky Mowdy, Judy Griffith and Faye Fang) outlasted Yeager's Newtowne Naturals (incl. Carla Rossetti, Toni Barnes, Elesha Patterson and Ann Bellamy) 10-9 in the title match for the crown!

The Susquehanna Valley 8-Ball League of Dover, PA traditionally has sent Men's Open teams to the Nationals, but their women's division turned out four teams of first-timers – all sponsored by "Athletic Lettering", and they showed their skill and determination in the lower-skilled Women's Standard 8-Ball Teams division by placing three of them in the top four places! Athletic Lettering #1 (Kristie Smith, Carla Bury, Deidre Ludwick and Suellen Romesburg) claimed the championship, while Athletic Lettering #2 (Carey Jenkins, Denna Neal, Beth Longmire and Donna Steepe) took runner-up and Athletic Lettering #3 (Julie Myers, Jennifer Hawthorne, Heidi Runkle and Megan Strott) placed 4th.

Ike Runnels of Hopkins Park, IL, took down 1st place honors in the Speed Pool Challenge, 2nd place in the Men's 9-Ball Singles and 4th place in the Men's Masters 8-Ball Singles. Ohio made a statement with Toledo's Danny Smith taking down Men's 9-Ball Singles and claiming the runner-up honors to his fellow Ohioan, Tony Mougey (Columbus), in the Men's Masters 8-Ball Singles. The River City Billiards League out of Omaha, NE won multi-honors as well with Champions in the Open Scotch Doubles division (Rebecca Anderson/Joe Shanks) and the Men's Open 8-Ball Team division ("Gotta Have It" w/ Joe Shanks, Dustin Gunia, Ron Utterback, Lee Norton and Zack Willis). Jessica Frideres (Ft. Dodge, IA) won both Women's Speed Pool and Master Scotch Doubles (with her partner Dustin Gunia), while Palatine, Illinois' Tina Larsen continued her string of national honors by collecting Champion and runner-up honors in Women's Masters 8-Ball Singles and Master Scotch Doubles (with partner Dan Taylor) respectively. Southern Amusement Pool League (Norfolk, VA) captured two titles with Bill Mason (Virginia Beach, VA) in Men's Senior 8-Ball Singles and "Footers" (Toni Barnes, Tiffiny Ebner and Elesha Patterson) in Women's 9-Ball Teams.

Canada won in the Men's Standard 8-Ball Singles division (Rainer Kambach – Calgary, AB), the Pro/Masters "6 Reds" Snooker competition (Lester Mianskum – North Bay, ON) and Brad Rautio's (New Westminster, BC) successful defense of title in the NWPA "Las Vegas Open" Wheelchair event; while Team Canada (Odie Willet, Pat MaCarthy, Eriks Malderis and Lester Mianskum) reclaimed the 3rd Annual Can-Am Snooker Challenge trophy from Team USA.

Solo titlists included Connie Lackey (Portage, IN) in Women's Senior 8-Ball Singles, Richard Blauer (Port Byron, IL) in Men's Open 8-Ball Singles, Niki Phillipi (Aloha, OR) in Women's Standard 8-Ball Singles, Madison Adkins (Winchester, KY) in Super Senior 8-Ball Singles, Ryan Behnke (Farley, IA) in 18 & Under Junior 8-Ball Singles, David Trujillo (Pueblo, CO) in 14 & Under Junior 8-Ball Singles, Louisiana's "Just Put Together" (Michael Singleton, Luke Coffey and Robert Hawes) in Men's Open 9-Ball Teams, Dan Taylor (Hickory Hills, IL) in the ACS National Artistic Pool Championship and Bill Powell (Portage, IN) in Open "6 Reds" Snooker.

The ACS Nationals enjoyed a 7% increase in team entries in 2008 and is looking forward to hosting ever-increasing numbers at its 2009 ACS Nationals, May 31 – June 6, when the ACS Championships immediately follow the VNEA International Championships ending on May 30) at the Riviera in Las Vegas! The ACS Nationals continues to be the national championship of choice for league and amateur players who desire to compete in more divisions of play while taking their pool vacation in Las Vegas! For more information on sanctioning any league with the ACS, joining as a player member or gaining referee or instructor/coach certification, go to www.americancuesports.org.