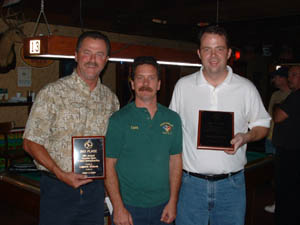 Denis Strickland, Craig Cohen & Jeremy Jones
Jeremy Jones goes through the tough field undefeated to become the first repeat winner at the Houston open. After winning a hill-hill match against last years champion Gabe Owens, Jeremy cruises to the win. Congratulations to Jeremy for his wins at the Texas Open, Us Open and the Houston Open.
Congratulations to Denis Strickland for Playing hard all weekend to end with a 2nd place finish. This was an impressive finish since Denis and his wife Trisha were also the tournament directors of this shot gun tournament.
Charlie Bryant (Hillbilly) had another great tournament placing 3rd in this tough field. Charlie had to dig deep and work hard to focus after his first loss to Denis. It seemed like everything was working against Hillbilly.
Placing 4th was Dave Henson. David has been placing in the top of every tournament he has entered and is playing some great pool.
We would like to thank Legends Billiards, Jerry Olivier Custom Cues and Strick-ly Used cars for sponsoring this event. We also would like to thank our vendors for there help at the Houston open, Ron Geyer with Custom cue connection and Joe Salazar with Connoisseur of Custom Cues.
Final results:
1st Jeremy Jones
2nd Denis Strickland
3rd Charlie Bryant
4th David Henson
5th-6th Robert Almarez & Gabe Owens
7th-8th Tommy Milburn & Cliff Joyner
9th-12th John Weeks, Rigo Pena, Rick Vargus & Javier Franco
13th-16th Barry Strickland, Wilfred Moestas, Leroy Mathis & Steve Smith