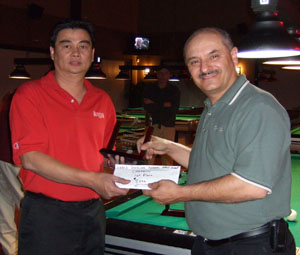 Edwin Montal and tournament director Paul Potier
Edwin Montal Successful at Harold Danielson Memorial Open
Breakers Billiards Club in Kelowna, British Columbia hosted a very special event this past weekend (September 7th-9th) – the Harold Danielson Memorial Open. This was a $10,000 added tournament with a full field of sixty-four players. Notable professional players included Mike Massey, Dan Louie, John Horsfall, Edwin Montal, Stan Tourangeau, Tyler Edey, Brian Butler, Paul Potier, Mike Vidas, and Brady Gollan.
The event was a great tribute to Harold Danielson. Everyone seemed excited to be involved and the atmosphere was friendly and jovial, and throughout the weekend stories about Harold filled the air with many of his famous lines expressed by his friends. They all believed that if Harold was watching over the course of the tournament, he would say, "It just don't get no better than this!"
As you would imagine, the event went very smoothly and there were absolutely no problems, complications, or episodes of bad sportsmanship as it was apparent everyone was there to enjoy the event and to memorialize Harold Danielson. In fact, a sportsmanship award was presented to Andrew Knox of Kelwona, British Columbia. Brady Gollan and Russ Acton (owner) said that Andrew was practicing every day for two weeks prior to the event and was extremely excited to participate. He played well in only his second tournament and actually won two matches. Always smiling and good-natured, he was a delight to be around throughout the weekend. Although it seemed that almost everyone deserved that very award, Andrew's star shone brightest.
A few other activities witnessed was a charismatic trick shot exhibition on Friday and Sunday night by Mike Massey, which thrilled everyone; and a couple of video cameras floating around the venue that will be used to compile a dvd of interviews conducted with Harold's friends, along with roaming the room for a diary of the event.
The finals ended in a match-up between Edwin Montal of British Columbia and Stan Tourangeau of Alberta. Edwin was fresh off of his win at the Canadian 9-Ball Championships the weekend before. This win in Kelowna should definitely suggest to the world that he deserves the title of 2007 Canadian 9 Ball Champion. Edwin's road to the finals came from wins over: Trevor Forry 9-2, Lorne Brooks 9-6, Tyler Edey 9-5, Mike Stuart 9-1 and Mike Vidas 9-3, before losing to Stan Tourangeau 2-9. While Stan Tourangeau's road to the finals came from wins over: Brad Rautio 9-7, Pat Ringham 9-3, Andrew Knox 9-3, Dan Louie 9-6, John Horsfall 9-5 and Edwin Montal 9-2.
Everyone was hoping for an exciting finals and they weren't disappointed. At the beginning, the match flucuated back and forth until the score reached 6-6. This is when Edwin hit a gear and jumped ahead 10-6. Stan, definitely not a rookie at playing great players or being in a final match, made a valiant comeback to bring the score to 10-9. However, it wasn't enough as Edwin edged him out with a win at 11-9. Congratulations to both finalists for a great tournament.
Many thanks to the staff and management of Breakers Billiards for their hard work throughout the weekend and for their generosity in both added money and declining greens/admin fees, and to the all of the other outstanding sponsors of this event, Rick Rogers who donated directly to the purse, Bob Gray for providing trophies, McDermott Cues for donating cues, and one anonymous donor who got the ball rolling with his generous donation of $6500.
In addition, special thanks to Paul Potier for his contributions as tournament director; Mike Jaffe from the British Columbia Cuesports Association for running the brackets; and to those people recruited to help run the event over the weekend: John Horsfall, Marty Turpin, Dan Louie, Mike Massey, Mike Stuart, Brady Gollan and Wayne Lipus – your help is greatly appreciated.
A reminder for the female pool players out there, on September 21-23, 2007, there will also be a ladies event that will continue the momentum of the Open. There are spots still available – any interested players should contact Paul Potier directly at (604) 803-8396 for additional information.
File photo courtesy of Jerry Forsyth