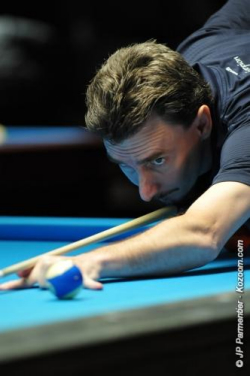 Johnny Archer
The final field of 32 players is beginning to take shape here in Manila at the WPA World Ten Ball Championship. Mika Immonen has gone through unscathed as has Stephan Cohen in Group A. The one-loss members of that group to go through were Alok Kumar and Marvin Tapia.

Group B finds Artem Koshovoj and Thomas Engert coming through undefeated. Engert bested Charlie Williams and Francisco Diaz-Pizarro. The one-loss escapees into the final 32 are Carlo Biado and Omaral Shaheeme. One player of note who was eliminated from the tournament in this group was Charlie WIlliams. After falling to Engert 9-7, Williams then lost to Carlo Biado by the same score. Group C featured super-fast Tony Drago who defeated Radoslaw Babica 9-1 in only 35 minutes and Vicenancio Tanio coming through with no losses while Demosthenes Pupul and Manuel Pereira took the longer road to reach the same goal.

In Group D Dennis Orcullo and Wu Jiaqing (formerly Chia Ching Wu) tasted no losses with Chris Melling and Jonas Magpantay also getting through and in Group E Hui Chan Lu and Ivica Putnik were the two who won both of their matches while Po-Cheng Kuo and Che Wei Fu also took a single bite of the bitter apple to survive until tomorrow. Ronnie Alcano and Carlo Dalmatin came out on top in Group F while Oliver Ortmann and Hao Xiang Han fought their way trough the losers side to make it to another day. Group G was commanded by Yukio Akakaryiami and Yousef Jalal. The one-loss side was still being contested at press time.

Nick Van Den Berg and Chi Dung Luong both went 2 and in for Group H. That group still has two matches to go to determine the outcome. Group I found heroes in Yu Lun Chang and Cheng Chieh Liu while the one-loss victors in that section were David Alcaide and Johnny Archer. Group J is still contesting the one-loss side but Jeffrey De Luna and Darren Appleton have already secured their slots with undefeated runs. Group K also still has some work to do to find the one-loss winners but Roberto Gomez and James Delahunty made it through with some tough wins. Delahunty took down Niels Feijen after trailing in that match 5-0 while Gomez sent both Jundel Mazon and Ricky Yangt over to the left hand side of the charts. Meanhwile, the winners in Group L were Jason Klatt and Marcus Chamat who will both be relaxing tonight as the one-loss side is still being decided.

Lo Li Wen and Jianbo Fu both had great performances in Group M. Lo Li Wen beat out David Rothall and Basher Hussain while Fu knocked the ever-tough Ralf Souquet and Ming Wang over to the long road. Group N was topped by Jerico Banares and World Junior Champion Francisco Sanchez-Ruiz with the one-loss side still up for grabs and Group O is in the same situation with the one-loss side still up in the air and the winners side being nabbed by Haitao Liu and Antonio G.bica. Our final group also still has work to do on the one-loss side but the winners side is owned by Daryl Peach and Naoyuki Oi.

The final single-elimination stage of 32 players will begin play on Friday at noon Manila time and will offer up the drama that single elimination always generates. Live scoring will continue at www.wpa-pool.com and the live streaming coverage can be found at www.Rayasports.com.