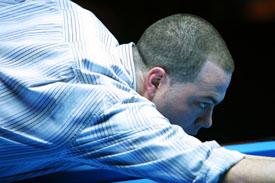 Scott Frost
The Olhausen Billiards Desert All Around Tour has recently become an
ongoing battle between young gun Mitch Ellerman and Scott Frost, with
Frost coming out on top most of the time. The last two tour stops came
down to Frost and Ellerman battling it out in the finals, but it
looked like the rest of the field might have had enough of that at the
October tour stop held at Metro Sportz Bar in Phoenix. Both Ellerman
and Frost appeared to have targets painted on their shirts and the
field that included 'The Mailman' Chuck Evans, Doug Hale, Mike
Williams, Mike Pankoff, Dennis Orender, Tres Kane and Mike Sandoval
were all gunning for them this event.

Ellerman started out with a bye and then a close 9-6 win over Mike
Sandoval, but he found himself in unfamiliar territory when Tres Kane
sent him to the one loss side with a one sided 9-4 match. While Frost
stayed on the right side of the board, it was not an easy run for him.
Frost started with dominating wins over Jerry Stuckart and Tucson
hotshot Zeb Crawford, but then had to fight for a 9-7 win over tour
regular Gary Koschnick.

Frost's next match was Tyson Cole and Cole showed early on that he was
not impressed with Frost's credentials. Cole ran out to a
quick 5-0 lead and looked on his way to an easy victory at 7-2. Frost
then took control and showed Cole why he has won as many events as he
has. Frost won the next four games and then snapped back to back
9-balls to take the lead 8-7. Cole has a chance to tie the score in
the next rack, but hooked himself on a six ball leading to ball in
hand for Frost and a 9-7 win.

Frost went on to defeat Kane and then Chuck Evans for the hot-seat.

On the one loss side, Ellerman was a man on a mission and that mission
was another spot in the finals. Ellerman eliminated Todd Dilley, Nick
Deleon, Doug Hale, Dennis Orender, Tres Kane, Tyson Cole and Chuck
Evans to earn another shot at Frost in the finals.

This was the third straight event that would be decided by a match
between Frost and Ellerman and Frost knew that he couldn't come out
slow in this one. Frost won the first four games before Ellerman was
able to get on the board. Ellerman got cut Frost's lead in half at
4-2, but Frost then won two games followed by running three straight
for a 9-2 lead. Frost extended his lead to 11-3, before Ellerman made
his run. Mitch won the next rack for 11-4 then snapped a 9-ball. Two
tables runs and another 9-ball break got Ellerman back to 11-8 before
he came up dry on the break. Frost ran that rack for a 12-8 lead and
then broke dry himself. Ellerman ran the rack to stay close at 12-9,
but could not make a ball on his next break and that proved to be his
downfall. Frost won the final rack for a 13-9 win and his third
straight victory.

Frost earned $1490 for first place, while Ellerman took home $870.
Ellerman still holds a 110 point lead with only two events left to
play this season. Frost knows that just beating Ellerman in the finals
of the last two events will not be enough to keep Ellerman from
earning the title of Arizona State All Around Champion. Frost will
need help from some of those same players that he has been dominating,
if he wants to have any chance to win the title himself.

The Olhausen Billiards Desert All Around Tour is sponsored by Olhausen Billiards ("The Best in Billiards"), as well as McDermott Handcrafted Cues, Visual Impressions, Aramith Billiard Balls, Tiger Products, Whisler Custom Cues, OnQ Cases, Tweeten Fibre, Joe Tucker, Billiards Press, Billiards Digest and Simonis Billiard Cloth.