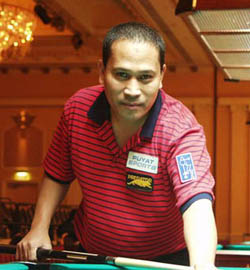 Ramil Gallego
Ramil "Bebeng" Gallego, winner of the recent Tokyo 9-Ball Open, continued his winning ways at the All Japan 9-Ball Championships at the Archaic Hall in Amagasaki Hyugo to enter the round of 32 even as the celebrated trio of Efren "Bata" Reyes, Francisco "Django" Bustamante and 2004 World Pool Champion Alex "The Lion" Pagulayan were beaten in rapid succession, yesterday.
After showing complete mastery at the table in disposing of Kenichi Uchigaki 9-1, Gallego had a slightly tougher time against China's emerging star Fu Jianbo before winning 11-7. Reyes who gave teenaged Chinese-Taipei sensation Wu Chia-Ching a neat lesson of precision pool in a 9-7 triumph was himself badly beaten by 2004 World Pool Championship runner-up Pei-Wei Chang 11-6 while Bustamante was totally outclassed by 2000 World Pool Champion and Taiwanese hero Fong Pang Chao 11-1 in the winner breaks format.
Pagulayan was somewhat unlucky to lose to Taiwan's Wu Yu-Lun 9-11 while Gandy Valle who was having a great run of victories earlier on, suffered his first setback at the hands of Malaysia's Southeast Asian Games gold medallist and Thailand 2003 Open 8-Ball Champion Patrick Ooi . Veteran Rodolfo "Boy Samson" Luat's run was also abruptly cut short by another Taiwanese Cheng Tsung Hua 5-9 before soft-spoken Warren Kiamco bit the dust against Wang Hua Peng 7-9.
Rising stars Marlon Manalo, runner-up to Reyes in the last World 8-Ball Championships and Dennis Orcullo kept charging through the losers side in the double-elimination round and were soon joined by Luat and Kiamco. Manalo squeezed past Fu Che Wei of Taiwan 11-10, Orcullo beat countryman Antonio "Nikoy" Lining 11-9 while Luat whipped Max Eberle of the US who was in the top 4 in the pro rankings in 2003, 9-5. Kiamco, with three runner-up finishes in the San Miguel Asian 9-Ball Tour under his belt, eased past Park Shin Young of South Korea 9-7 to stay alive in the tournament which offers a top prize of over $20,000.
Among the other big names in the round of 32 were Mika "The Iceman" Immonen and European master Ralf Souquet but right now it does seem that the Taiwanese who have stopped the Philippine juggernaut are in a commanding position entering the final stages of the top-level tournament.
Photo courtesy of Diana Hoppe - Pool Pics By Hoppe