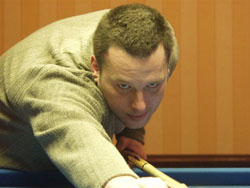 Dennis Hatch
Day two is complete at the Turning Stone Classic VI and the field of 128 players is now down to 64 players.
The biggest crowd of the night gathered for the winners side match between Dennis Hatch and Karen Corr. Corr trailed the match 7-4 when she took control and won four straight games to get to the hill at 8-7. The match looked to be over until Corr jawed a 7-ball in the next game and Hatch quickly tied the score at 8-8. Corr again had control in the final game, but took a risky path to the seven and hooked herself. The pool gods teased Karen and the crowd a little when Corr kicked the seven and left a tough shot for Hatch, but the match was over when Hatch went for a safety on the 7-ball and ended up making it with perfect shape on the 8.
Other winners side matches saw Mika Immonen roll over Corey Deuel 9-2, Joe Tucker come back from 5-0 down to beat Jason Robichaud 9-5, and Danny Basavich end Raj Hundal's unbeaten run 9-6.
On the one loss side late Friday night, Bruce Carroll turned some heads with his 9-2 elimination of Ryan McCreesh. Carroll had led Archer 4-1 earlier Friday, but lost the match. His win over McCreesh earned him a match with Matt Krah on Saturday morning.
Online brackets have been updated and we have an online photo gallery from the event with more pics coming on Saturday.
File photo courtesy of Diana Hoppe - Pool Pics by Hoppe