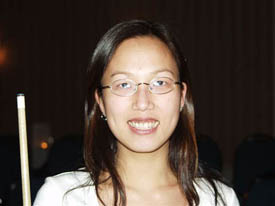 Hsin Huang
The Northwest Womens Pool Association held their July stop at City Lights in Tacoma, WA with a field of 42 players; Hsin Huang, the winner of three straight tour stops, and 41 other players trying to stop her.
Huang again exerted her dominance of the tour, as she rolled to the hot-seat untouched. Her opponent for the hot-seat was Katherine Czarkowski who still could not find the key to beating Huang.
Czarkowski defeated Martha Hartsell on the one-loss side to earn another shot at Huang in the single elimination finals. Huang jumped out early in the finals, and quickly led 6-1 in the race to nine. Czarkowski dug down and won four of the next five racks to get back to 7-5 before Huang won the last two racks for the 9-5 win and her fourth consecutive NWPA victory.
Huang collected $540, as well as the qualifier for the WPBA Nationals. Czarkowski settled for $352 in second place prize money. Hartsell and Deby Welfringer filled out the top four spots.
The NWPA Tour will be at Q Street Billiards in Springfield, OR on September 13th - 14th for their next stop.
Complete Payouts:
1st Hsin Huang $540
2nd Katherine Czarkowski $352
3rd Martha Hartsell $252
4th Deby Welfringer $194
5th/6th Linda Carter, Wendy Sedlacek $122
7th/8th Regene Springett, Mona Remedios $92
9th/1212 Julie Stallings, Mary Hopkin, Tamre Geene-Rodgers, Nancy Measer $78