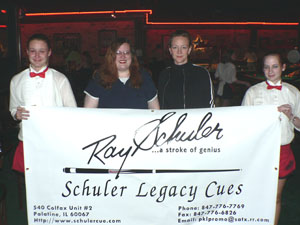 Helen Hayes, Jennifer Kraber and the Fast Eddie's Ladies
The battle cry for the ladies was "LET'S PLAY POOL!" at the first event of the year for the Fast Eddie's Olhausen 9 Ball Tour sponsored by Schuler Legacy Cues on January 22 in Houston, Tx. as twenty four ladies showed to tear it up on the mean green. There were a lot of tough and very close matches during the day.
Top picks were last year's Player of the Year - Amanda Lampert, Helen Hayes, Belinda Lee, Michelle Cortez and Jennifer Kraber. A big "WELCOME" goes out to new Tour members Natalie Esparza, Ricki Lee Casper, Laura Hsu and Elizabeth Kirkman.
Jumping into the 5-6th positions were Amanda Lampert and Julia Rapp. Both ladies are tough competitors and played hard all day.
Natalie Esparza of Houston grabbed the 4th slot after making some great come backs in her earlier matches. We will be hearing from this lady again!
Kim Pierce of Bastrop showed what she's made of as she took the long road to third place after losing her first round to Amanda. As Yoda would say, "Heart, this young lady has."
When the dust cleared at the end of a long day, Helen Hayes of San Antonio held the hot seat with Jennifer Kraber from Austin coming off the one loss side to match up for the finals. You won't find two nicer ladies as the crowd wanted neither to lose.
And what a final match it was. With the first set tied hill-hill, 6-6, the pool gods were not on Helen's side as she had a slight angle cut on the eight with the nine at the other end of the table. She hit the eight into the heart of the pocket, only to have it POP OUT back onto the table. Jennifer got out and it was on to the second set.
The second set started near midnight, with the ladies battling each other and exhaustion, they again were tied at 6-6. Jennifer won the case game and her very first Tour victory. Congratulation to Helen for a fine performance and a great second place finish.
A special thank you to Olhausen Billiards and Schuler Legacy Cues for their continued support in 2006. We feel very fortunate to be associated with such tremendous people and very grateful for their generosity.
New to the Tour this year is Brian Hennah with the Aramith "SHARK" Balls. A new set of the beautiful balls went to Jennifer Kraber and she was "all smiles". A special thanks for their contribution.
Another new addition is OB-1 Shafts of the Dallas area. The OB-1 is simply incredible with its new radial technology and is making quite a "stir" in the industry. At each event this year, as you register, go directly to the OB1 display and receive your 'free' raffle ticket for an OB-1 shaft. Don't miss this opportunity. Thanks again to Royce and his crew.
Again, thank you to Ron Geyer of the Custom Cue Connection, Jack Kompan of Mystick Cues, Tino Lopez of Teodora's Tacos, and Jeff Ridel and Robbie Timms of "Behind the 8 Ball". It just wouldn't seem like home without all you guys. Your appreciation just can't be properly expressed.
Thanks to Rick and his entire staff who handled a huge crowd very, very well. You guys are great! We will never forget the words of Mark "Big Lew" Lewis of Fast Eddies Billiards, "Well, we do this mainly because it is the right thing to do. Let's do it!" As it says over the bar in large gold letters at each Fast Eddie's location, "LIFE IS MEANT TO BE GOOD". Well, Fast Eddie's makes it more than good, they make it great. It is just one of the reasons that Fast Eddies is RAPIDLY becoming the largest billiard chain in the world.
From us at PKL Promotions, it was fun and we think that 2006 is going to be a great year for POOL. See you at Fast Eddie's on N.W. Military Drive in San Antonio on February 11-12, 2006.
Complete Results:
1st Jennifer Kraber $610
2nd Helen Hayes $415
3rd Kim Pierce $250
4th Natalie Esparza $165
5th/6th Amanda Lampert, Julia Rapp $70