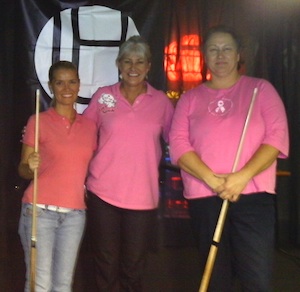 JoAnn Mason Parker, Amy Poulter and Chris Ann Fields
Stuart, Fla. (Oct. 9, 2010) – It was truly a special event as 23 players from Miami to Tallahassee, Ft. Myers to Daytona and in between came together in Stuart, Florida, to compete in the Flamingo Billiards Tour "Cues for the Cure" breast cancer fundraising event, held in conjunction with the American Cuesports/Lucasi Hybrid All-American Tour.
The modified double-elimination tournament was held at Amy's Billiards (www.amysbilliards.com) in Stuart, Fla., hosted by room owner
Amy Poulter
, one of Florida's top players.
It was also a special day for
JoAnn Mason
Parker, having friends affected by breast cancer, and winning her first event on the Flamingo Billiards tour. Parker started the day with a 7-4 win over
Emily Wilmoth
Broxson.
Shelly Harrison
, fresh off winning the Atlanta Billiards Expo Amateur 9-Ball tournament, sent Parker west to the one-loss side, 7-5. Not to be stopped, however, Parker won her match against
Jessica Barnes
, 7-2, to make it back to the final 8-redraw.
Parker had a revenge match in the single elimination redraw as she matched up again against Harrison, this time winning 7-5. Parker went on to take the next match against
Kelly Coyle
, 7-4, making it to the finals.
This day was also special to relative new-comer Chris Ann Fields, who made it to the finals, defeating
Robin Boggs
7-4, and top tour players
Stephanie Mitchell
7-5, Helen Caukin 7-3 and Sabra MacArthur Beahn 7-3.
Other players making to the redraw on the winner's side included Kelly Coyle , winning over
Jeannie Seaver
7-6, and Susan Miller 7-1.
Kelly Cavanaugh
made her way to the redraw with a 7-5 win over Amy Poulter, and 7-2 over Marina Souza. Cavanaugh lost to Beahn in the quarterfinals. Coyle made it to the semifinals to be knocked out by Parker 7-4. Amy Poulter made it back from the one-loss side with wins over
Barbara Ellis
7-0, Debbie Teichert 7-4, and
Christie Cloke
, 7-1. Beahn fought her way back to the redraw after losing her first match to Poulter 7-4, with wins against Broxson 7-6,
Mimi McAndrews
7-6, and Mitchell 7-3.
The final match started with Parker easily running out to take the first game. In game two, Fields, who played tough all day, hung the 1-ball. Parker pocked the next two balls, leaving Fields a safety on the 4-ball. Fields attempted to jump but scratched. However, Fields made it back to the table for a combo on the nine, score 1-1. Parker took game three making a tough cut on the nine. In game four, Fields had a nice run going but missed the eight, leaving an easy out for Parker, up 3-1.
As the night wore on, Fields appeared to be losing steam. She scratched in game five, giving ball-in-hand to Parker for another easy out. Score 4-1 Parker. Parker made a great jump shot to pocket the 1-ball in game six. Playing almost flawless pool, Parker played safe, and got ball-in-hand again to take the lead 5-1. Fields scratched in game seven, giving ball-in-hand and the game to Parker. With Parker on the hill, Fields broke but came up dry. Parker took the game and won the final match 7-1.
This day was also special for other players as well. FBT player Barbara Ellis celebrated her 76th birthday with all the players. Debbie Teichert, currently a women's golf pro, made her return to competitive pool on this day. FBT player Janice Sesssions raised a record $360 for the breast cancer fundraiser, which benefits the South Florida Affiliate of Susan G. Komen. The players raised a total of $580 this year!
Parker won $400, a trophy, and paid entry into the Flamingo Billiards Tour $1000-added Invitational in November. The Flamingo Billiards Tour thanks all of its sponsors, Boynton Billiards (www.boytonbilliards.com), Ozone Billiards (www.ozonebilliards.com), Tweeten Fibre (www.tweeten.us) and the American Cuesports and Lucasi Hybrid All-American tour. And finally, thanks again to Amy's Billiards for being a great host and supporting the Flamingo Billiards Tour.