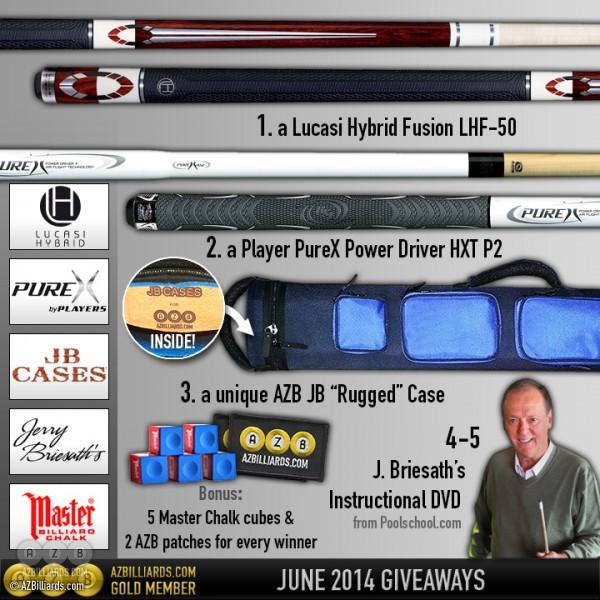 We are very happy to announce our Gold Mine Winners for June. First place goes to an old-time Gold member, Fast Lenny. Lenny will receive the Lucasi Hybrid LHF 50. This cue features an exotic duo-tone Cocobolo and Titanium White forearm and butt with Ebony and metal inlays and a Fusion G5 grip. It comes with a Kamui Brown tip, a 12.5 Zero Flexpoint shaft, Total Sweet Spot construction, and the X-Shox Dampening System.

Second place goes to Mooneye. Mooneye gets the PureX HXT P2 Jump-Break Cue. This beauty features 100% North American Grade A hard rock Maple wood and a Carbon Fiber Joint and comes with a XLG Quad Face Tip. It has a Carbon Fiber impact system and Multi-Zone Traction Grip.

Third-place goes to wjdsnipes. He wins a great JB "Rugged" case and a year extension of his Gold Member status, a gift provided by one of our Gold Members. The JB "Rugged" has become the go-to case in the industry and this one is a collectors item as it has the AZB logo engraved inside the top lid and is one of less than ten of these in existence.

Our fourth and fifth place winners are Donkin the 8 (who won a cue just last month) and dchan320. They will both get a copy of an extremely impressive 3-DVD set of instructional material from Jerry Briesath, the Dean of American Pool Instructors. This set, "A Pool Lesson with Jerry Briesath", can take you all the way from basic beginner to advanced level player. It is truly an instructional series that allows you to grow your game at your own pace and is one of the most valuable assets that you could ever add to your arsenal.

All winners will also receive five pieces of Master Sky Blue Chalk and a pair of AZB Patches. I will be sending PM's to the winners later today to get their email addresses and their shipping addresses. Congratulations to all of our winners!