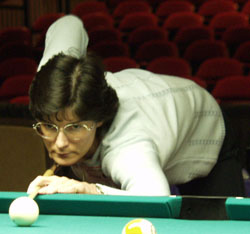 Karen Corr
The Jacoby Custom Cues Mid American Ladies 9-Ball Tour is in action this weekend at Cue Time Billiards in Bowling Green Kentucky and the field has already been trimmed to just four players.

On the winners side, Karen Corr will face Tina Hess for the hot-seat on Sunday morning. On the one loss side, Julie Kelly will take on Samantha Patton first thing on Sunday.

Corr has been almost untouchable so far in this event with only three games lost in three matches. Hess followed a first round bye with a 7-2 win over Tina Hess and then a hill-hill win over Samantha Patton.

This event is a qualifier for the WPBA Colorado Classic, and Samantha Patton has already won the qualifier.

Follow all of the match results with our online brackets.