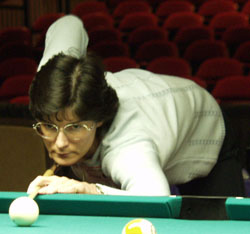 Karen Corr
Karen Corr went undefeated in a field of 31 players to win the NJ State 9-ball Championships at Prime Time Billiards and Sports Café in South Amboy NJ.
Other WPBA Pros in attendance included Julie Kelly, Kim Shaw, and Gerda Hofstatter, as well as JPNEWT POY Morgan Steinman and POY Runner-Up Caroline Pao, to compete for a prize fund worth over $5000.
Karen didn't have the easiest ride to the hot seat match after her first match win over Carina Lawrence, as she had to play Julie Kelly in the second round and then Gerda Hofstatter in the round after that.
Meanwhile, Zinnie Panju was having a strong Saturday by posting match wins over Barbara Stock, Candi Rego, and Liz Ford.
When the final eight returned on Sunday it was Karen facing My-Hanh Lac, and Zinnie Panju playing Palma Kogan. Karen won over My-Hanh and Zinnie sent Palma to the left side of the chart to set up the hot seat match. With the score tied at 5-5, Karen's skills and knowledge of the game overpowered Zinnie and Karen won 7-5.
On the left side of the chart My-Hanh posted wins over Liz Ford and Gerda Hofstatter to face off against Zinnie for the final match with Karen. My-Hanh won 7-4 over Zinnie.
In the finals Karen jumped out to a 5-1 lead before My-Hanh could win another game. Karen finished the match with a 7-2 score for the championship title. Congrats to Karen and congrats to My-Hanh for winning the US Open Qualifier!!
JPNEWT thanks Prime Time Billiards Room Manager Adam Seltzer and Room Owner Kevin Seltzer for another outstanding event!
JPNEWT's next event will be the Maryland State 9-ball Championships at Bill and Billies CuesPort in Arnold, MD. This event will feature $1500 and a WPBA 2008 US Open Qualifier