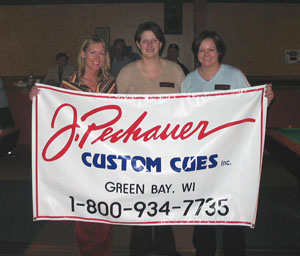 Tina Meraglio, Kelly Fisher, and Val Finnie
Kelly Fisher came from the 1-loss side of the chart to take JPNEWT's final event, 9-1, over Tina Meraglio at Hagerstown Billiards in Hagerstown, MD. Kelly was sent to the wrong side of the chart by roommate and road partner Val Finnie after they each received a bye in the first round and had to play each other in the second. Kelly posted wins over Simone Hospedales, Kathleen Lawless, Pam Ogarek, Carol Clark, and Karen Armstrong before meeting up with Val again.
After defeating Kelly in the second round, Val won against Wendy Safford and Carol Clark, but got drilled by Tina Meraglio in the contest for the hot seat, 7-2. Tina also posted wins over Barbara Stock, Pam Ogarek, and Karen Armstrong on her way to the hot seat.
In the finals it was Kelly Fisher all the way, making very few mistakes en route to a 9-1 victory.
Val Finnie is JPNEWT's Player of the Year. Congrats Val!!
JPNEWT thanks Jason and Gary Carbaugh of Hagerstown Billiards, and Pechauer Cues for their support and sponsorship.
Results:
1st - $440 + Qualifier - Kelly Fisher
2nd - $330 - Tina Meraglio
3rd - $225 - Val Finnie
4th - $125 - Karen Armstrong
5/6th - $50 - Carol Clark and Erin McManus