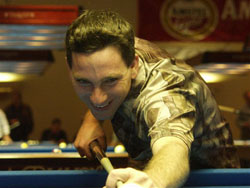 Tommy Kennedy
Tommy Kennedy completed an undefeated run through the field of 31 players to notch the win at the SE Open 9-Ball Tour Stop at The Crooked Cue in Waynesville, NC.
Kennedy took the hot-seat with a dominating 9-3 win over local player Joel Bradshaw. Things went from bad to worse for Bradshaw, as he dropped his next match 9-2 to Brian White on the one-loss side.
This set up the final match between Kennedy and White, which was a rematch of their meeting first thing on Sunday morning. Kennedy won the first match, and he completely controlled the rematch and scored an 11-3 win.
Kennedy collected $710 for first place, while White settled for $500 in second place prize money. Bradshaw and Jerry Grooms filled out the top four players. Junior Harris was the top junior player and Brooke Fish was the top female. They each won $50 in bonus prize money.
Kennedy expressed his thanks to room owners Aaron and April Frady who hosted the event. "The room was great, and so was the crowd. What more could we ask for?" said Kennedy. Thanks were also sent out to Ron Park who helped run the event and also turned in a 5th place finish.
The SE Open 9-Ball Tour will be at Kiss Shot Bar & Billiards in Coral Springs, FL for their next event on February 5th-6th.
Complete Payouts:
1 Tommy Kennedy $710
2 Brian White $500
3 Joel Bradshaw $400
4 Jerry Grooms $250
5th/6th Ron Park, Dave Maddux $125
7th/8th Darryl Caldwell, Mark Parlier $75

File photo courtesy of Diana Hoppe - Pool Pics By Hoppe