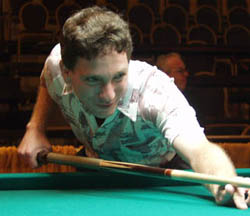 Tommy Kennedy
Tommy Kennedy and his SE Open 9-Ball Tour made their way to The Crooked Cue in Waynesville, NC with a field of 42 players including Kennedy, former World Champion Earl Strickland, Tony Watson and a pint sized 13-year old powerhouse who prefers to be known as Little Joe.
As the tournament went on, it was 'Little Joe' who was drawing most of the attention. After a Strickland loss to Kennedy on the winners side, it was 'Little Joe' that sent Strickland home without cashing. Another player eliminated prior to the cash was Tony Watson.
On the winners side, it was Kennedy scoring a 9-4 win over Scott Rabon from Columbia SC to take the hot-seat. Rabon went to the one-loss side where he eliminated Mike Gulyassi to set up the rematch with Kennedy in the finals.
The final match between Kennedy and Rabon was much more competitive with Rabon missing a 4-ball that would have allowed him to tie the match at 9-9, before Kennedy went on to win the next 2 games for the 11-8 win.
Kennedy collected $700 for the win, with Rabon settling for $525. Gulyassi and 'Little Joe' filled out the top four spots.
The SE Open 9-Ball Tour will be at Victory Billiards in West Palm Beach, FL on August 7th-8th for their next event.