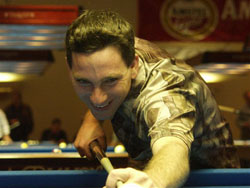 Tommy Kennedy
Tommy Kennedy went through a field of 43 players undefeated to win the SE Open 9-Ball Tour stop at Parkway Billiard Club in Bluffton, SC on March 4th and 5th.
Kennedy took the hot-seat with a 9-6 win over Mike Staubes and got comfortable waiting for his opponent in the finals.
The semi-final match went to hill-hill before Tony Watson finally eliminated Staubes in 3rd place.
The extended final match went Kennedy's way by the score of 11-6 for first place in the tournament.
Kennedy earned $1000 for first, while Watson took home $500 for second. Staubes and Glenn Smith filled out the top four spots. Josephine Leong was the top female finisher and Taylor Bates the top junior finisher. They each earned $50 in bonus money.
Complete Results:
1st Tommy Kennedy $1000.00
2nd Tony Watson $500.00
3rd Mike Staubes $400.00
4th Glenn Smith $300.00
5th/6th David Crocker, Ron Park $150.00
7th/8th Kevin Caruso, Billy Sikes $100.00
9th/12th Donnie Seagraves , Greg Little Will Foster, Chris Zayas $50