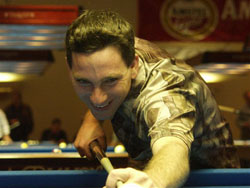 Tommy Kennedy
Tommy Kennedy came out on top of a field of 32 players at the J Pechauer SE Open 9-Ball Tour stop this weekend at Run Way Billiards in Mobile, AL.
The two top seeds in this event were definitely Kennedy and Cliff Joyner and to no one's surprise it came down to these two players for the hot-seat. Joyner pocketed an incredible 5-ball in the case game to take the hot seat 9-8 over Kennedy. At the same time this match was finishing, David Trest was winning his own hill-hill match over Luke Dupierne on the one-loss side.
On the one loss side, Kennedy would have to get though Trest to earn another shot at Joyner. Kennedy made quick work of Trest, with a 9-3 win.
Kennedy made sure that Joyner didn't get the chance to pull off any hill-hill heroics in the rematch. Kennedy took the lead early and never looked back, on his way to an 11-5 victory.
Kennedy earned $1,100 for first, while Joyner settled for $650 in second place prize money. Trest and Dupierne filled out the top four spots. Vicki Rybik was the top female finisher and pocketed $50 for the feat.
The SE Open 9-Ball Tour will be at Jim Bob's Pool Hall in Gulfport, MI on August 20th-21st for their next event.
Complete Results:
1st Tommy Kennedy $1,100
2nd Cliff Joyner $650
3rd David Trest $450
4th Luke Dupierne $350
5th/6th Dan Briggs, Jeremy Smith $200
7th/8th Jason Breland, Bill Folman $135

Photo courtesy of Diana Hoppe - Pool Pics by Hoppe