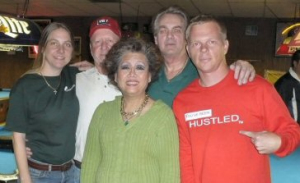 Kim White, managers Bill and Minh Hammond, Winner Lanny Herrin, runner-up Nick Hood
On March 28 and 29, Kim White, WPBA touring professional and tournament promoter, conducted the second Houston 9-Ball Bar-table Open. Held at the Rose Country Club in North Houston, this event drew an outstanding field of 60 players which included touring professional Charlie "Hillbilly" Bryant, defending champion Barry Strickland and previous runner-up Andy Jethwa. Other pre-tournament favorites included: Nick Hood, Sam Manaoli, Doug Young, Ernesto Bayaua and David Parker. Kim White and former WPBA touring professional Deanna Kniola also competed in this event.

On Sunday night, after two days of competition, the field narrowed to the final four: Lanny Herrin and Nick Hood on the winners side and Doug Young and Danny Tam on the one-loss side. Herrin then dealt Hood his first loss, 9 to 5, and Tam eliminated Young, 7 to 4. While Herrin waited in the hot seat, Hood earned a rematch by defeating Tam, 7 to 4.

The true double-elimination finals proved to be an exciting matchup, pitting a veteran player, Lanny Herrin, against a young gun, Nick Hood. Both players were in stroke, and the action was fast-paced. In the first set, Hood jumped to a 4 to 1 lead, but Herrin came back to tie it at 4-all. From there, they alternated wins until the match was hill-hill. In the case game, Herrin came up dry on the break, and Hood ran out, to take the set.

In the race-to-7 set for the championship, Herrin opened with a break-and-run, and jumped to an early lead, 3 to 0. Hood, however, answered with a three-game streak of his own, to tie the set at 3-all. Playing quickly, with a veteran's knowledge of the table, Herrin then won the next four games, including running the last rack, to claim the championship, 7 to 3.

The total payout for this event was over $8,400, with the top 16 players winning money. Payouts included $3,400 for first place, $2,050 for second, $1,340 for third, and $700 for fourth.