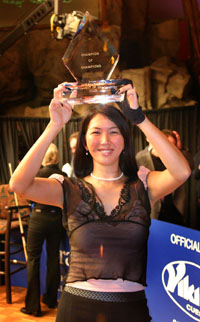 Jeanette Lee
Jeanette Lee has defeated Allison Fisher in sudden death to win the Ladies Tournament of Champions at the Mohegan Sun Casino in Uncasville, CT.
Lee lost the first set 5-1 after missing a makeable 9-ball in rack two. That miss gave Fisher a 2-0 lead and Fisher proceeded to break & run the third rack for a 3-0 lead that Lee would not be able to carve into.
The second set started out very similar as a miss on the 6-ball in rack two gave Fisher a 2-0 lead. In the next rack, Fisher missed a 7-ball to let Lee back into the game and Lee got back to 2-1 down. The turning point of the match happened at 2-2 when Jeanette jumped to make the 4-ball and run out and she went on to win the second set.
The sudden death tie-breaker turned into a safety battle early and Lee won the battle when Fisher hit the 2-ball on a kick but scratched. Lee took ball-in-hand and ran out the rack for the $25,000 win.
Photo courtesy of Bill Powers