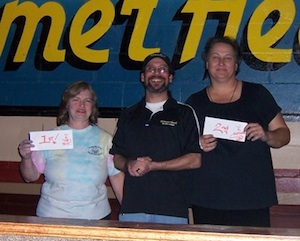 Sabra MacArthur Beahn, Hammer Heads Representative Gary and Chris Fields
Sabra MacArthur-Beahn
has been a part of the Florida-based Bay Area Amateur Tour (BAAT) for just over three years now. In addition to her obvious skills at the table (she finished in seventh place in the final 2010 tour rankings), she has been an invaluable assistant to tour director
Stephanie Mitchell
, pitching in wherever help has been needed ("I wouldn't want to do it without her," said Mitchell). On Saturday, January 22, for the first time, MacArthur-Beahn became an event winner, giving up only one match in a true double elimination final to
Chris Fields
. The $440-added event, which drew 22 competitors to Hammerheads in Holiday, FL was the opening event of the 2011 BAAT season.
MacArthur-Beahn got into the hot seat match against Mitchell, following a 7-1 victory over
Marci Whitaker
. Mitchell had sent
Valerie Dukich
west in a double hill battle. In that hot seat match, MacArthur-Beahn used three combinations on the 9-ball to win the 5-3 match.
"I don't know," MacArthur-Beahn commented to Mitchell at the time. "I can just see them today."
"And see them she did," said Mitchell, who moved over to the semifinals, never to return, thanks to Chris Fields.
Fields, in the meantime, who'd been sent west by Whitaker in the second round was on a march to those semifinals. She got by
Christine Brenner
7-1 and prevailed in a double hill match over
Stacey Lantz
to get a second crack at Whitaker. Dukich picked up
Kelly Cavanaugh
, who'd survived two straight double hill matches, versus
Jamie Toennies
and
Sabrina Bunnell
, to reach her. Fields exacted her revenge against Whitaker 7-1 to move into the quarterfinals and was joined by Cavanaugh, who'd prevailed in a double hill match against Dukich.
Fields got into the semifinals against Mitchell with a strong 6-1 victory over Cavanaugh, and then, in a straight-up race to 5, defeated Mitchell 5-3. She moved on to prevail in a double-hill opening set of the true double elimination final against MacArthur-Beahn. MacArthur-Beahn, though, came back to win the second set 5-2 and chalk up her first victory on the BAAT's 2011 season opener.