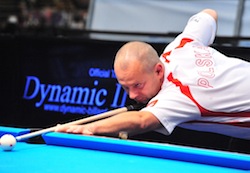 Tomasz Malinowski (POL) Foto: EPBF/DK
Worung, Correia and Sudic also through

Tuesday, 09 August 2011: The quarter-finals of the Dynamic European Seniors Championships in 10-ball have been played. Two out of the four last men standing are favourites while the other two are more or less dark horses.

Tomasz Malinowski (POL) is one of the dark horses. He overcame Werner Scheu (AUT) with a clear 7:3 success. Until the score was 5:2 in favour of Malinowski, Scheu only won his racks when Malinowski dogged the 10-ball. Then, in the 8th rack, Malinowski broke the balls and the cue ball scratched. Scheu ran the whole rack to make the score 5:3. The next rack saw the Austrian breaking. He pocketed one ball on the break and ran the table again. Everything looked very promising for him, but then he left the 10-ball hanging over the pocket for Malinowski. That brought about Scheu's downfall. Malinowski accepted the gift and made the score 6:3 instead of 5:4. Then, he broke and ran the next rack, winning the match with 7:3.

The other dark horse in the semi-final will be Jimmy Worung (NED). He defeated Magnus Lindgren (SWE) in a close encounter with 7:5.

However, the favourites in the semi-finals will be Henrique Correia (POR) and Robert Sudic (CRO). Correia ousted Egil Arne Sörensen (NOR) and handed him a doughnut with 7:0 while Sudic terminated Zoltan Kojsza (HUN) with 7:5 from the event.

The European Championships are hosted by the European Governing Body for Pool, the European Pocket Billiard Federation (EPBF) and organized by International Billiard Promotion (IBP). For further information and reference please go to the federation website www.epbf.com , follow us on twitter @EPBF_News or contact our press office.