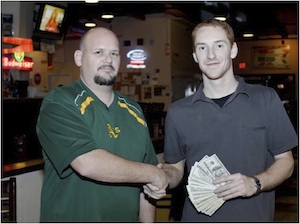 Chris Swart and Colin Mazaika
The WorldPPA, an organization just for pool players, provided FREE membership, LOW entry fee, FAIR handicapping with full transparency to the players. 36 WorldPPA members received a FREE paid entry to this tournament.
After 2 full days 121 players played 476 matches and when the dust cleared the final two players still standing were
Colin Mazaika
on the Winner's side and Deo Alpajora on the 1 loss side. Deo Alpajora, WorldPPA's highest rated player, won all of his matches on the winner's side up to his hot seat match, then won his next match earning another opportunity to battle with Colin Mazaika for 1st place, but it proved to be too big a hill to climb. Colin Mazaika won the finals 8 to 4.