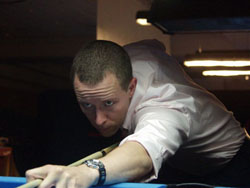 Mika Immonen will face Thorsten Hohmann in two challenge matches
Dragon Promotions brings you the Mezz World Champion Showdown at Main Billiard Club in Incheon , Korea on February 14,2007. 2001 World 9Ball Champion "Iceman" Mika Immonen will take on reigning World 14.1 Champion Thorsten "Hitman" Hohmann. Both players will be in Korea competing in the 2nd Annual Korea Pro Pool Tour Championships on February 10-13.
Immonen and Hohmann will take on challenges from fans in short races in 9Ball and then play against each other in Straight Pool and Bank Pool. Korean audiences have never seen either game, so it will be a special experience.
"Mika has been a great ambassador for our company over the last few years and Hohmann is a great player and sportsman. I am truly happy to be a part of this challenge between these two champions, " says Kazunori Miki, President of Mezz Cues.
Mezz Cues is Japan's premiere cue maker over the last 40 years and is well known and respected in the billiard industry. Mezz has been a strong supporter in the sport of billiards and has sponsored such events as The Mezz Crowd Nine Cup and The Mezz Seoul Open. Mezz also supports and sponsors players including international star Mika Immonen, Kunihiko Takahashi, and junior champion Hayato Hijikata. www.miki-mezz.com
Immonen and Hohmann are also both managed by Dragon Promotions and are good friends off the table. But when it comes to dishing it out on the felt, what do these two sometimes tourny roomates have to say about each other...?
"Banking is one of the strongest parts of my game and I think Thorsten is not going to like it. And though he's the World 14.1 Champ, he can't take me lightly in straight pool. " comments Immonen, who recently won the Derby City 14.1 Event with a high run of 160. Mika adds, "Plus he beat me the last time we played which was Vegas at The US Pro Tour Championship. I owe him some payback."
"Mika is one of the World's greatest players and I respect his game. But I know I'm the favorite in 14.1 and my banking has been tremendously improved." says Hohmann who finished 6th at the Derby City Bank Pool event. "I also have an outstanding track record against Mika in tournament play and I know I'm well ahead in wins. So he'll have to deal with that fact internally when we meet in Korea."
There will be no lost love between these two great champions as they face off on Valentine's Day!
File photo courtesy of Diana Hoppe - Pool Pics by Hoppe