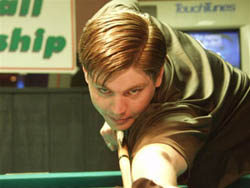 Mike Davis
The Viking Cue 9-Ball Tour is at Numans Billiards in Johnson City, TN this weekend with a field of 53 players competing for the $2000 in added prize money. Top seeds in attendance include Mike Davis, Shawn Putnam, BJ Ussery, Brian Capps, and Chris Bartrum. The field also includes a couple top Canadian players: Jason Klatt and Erik Hjorleifson.
Sunday morning matches on the winners side will be Ussery vs Capps, Haskell Brown vs Anthony Morgan, Harold Ewing vs Klatt and Bartrum vs Davis. Putnam dropped a 9-8 decision to Capps on Saturday but was still alive on the one-loss side at the end of Saturday play. Other players on the one-loss side include Johnny Carson, Ricky Bingham and top female regional player 'Jumpin' Janet Atwell.
The Viking Cue 9-Ball Tour will be at The Rack in Livonia, MI next weekend and will be holding their $25,000 added National Championship at Palace Billiards in Villa Park, IL on March 2-6.
File photo courtesy of Diana Hoppe - Pool Pics By Hoppe