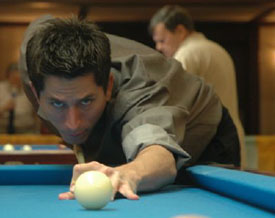 Stevie Moore
Steve Moore, after an opening round defeat, came from the one-loss side to take both sets of a double elimination final versus Dave Grau to capture first place in the 4th annual NYC 9-Ball Championships on the weekend of August 29-30. The $3,000-added event drew 28 entrants to the Skyline Billiard Club, in Brooklyn, NY.

Grau moved into the hot seat with a 9-4 win over Joey Kong and a hill-hill win over Oscar Bonilla. Bonilla, who'd sent George 'Ginky' Sansouci west in a winning hill-hill battle, moved into the semifinals against Moore.

Of the five matches Moore played from among the event's final 12 to get back to the finals, four of them were won by a total score of 36-9. He moved past Bruce Nagle 9-3 and Tony Liang 9-2 to pick up Kong off the winners' side final four. Sammy Wu, in the meantime, was moving past Alex Gildarg 9-8 and Mike Dechaine 9-6 to meet 'Ginky.' Moore dropped Kong into the tie for fifth place 9-2, as 'Ginky' sent Wu to join him 9-4.

In the quarterfinal match that followed, 'Ginky' who'd end up winning almost as many games against Moore as four other opponents combined (9 for the others, 8 for 'Ginky') got out ahead of Moore 8-6 to reach the hill first, but missed a dead-on shot at the 8-ball in the 15th rack to turn the game, and ultimately, the match over to Moore, who won three in a row to take it 9-8.

Moore made short work of Bonilla in the semifinals, defeating him 9-2 and then turned to face Grau, whom he needed to defeat twice to take the title. The two played two very close sets for a total of 30 games that lasted for just over four hours. In the end, Moore won both sets by identical 9-6 scores and took home top honors as NYC's 9-Ball Champion for 2009.