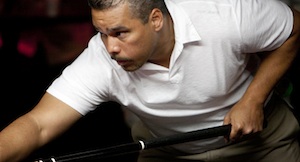 Rodney Morris (Photos courtesy of Dave Thomson - Medium Pool)
The Seminole Pro Tour made their way to new ground over the Memorial Day weekend as they ventured to Hollywood Billiards in Los Angeles California with a field of 59 players eyeing the $5000 first prize available.
Monday play got underway with eight players still holding hopes for a win. The winners side saw Corey Deuel dominate Gabe Owen 8-2 and Stevie Moore lost 8-5 to Rafael Martinez. Moore led the match 5-3 before a surprise miss let Martinez back in and Martinez took full advantage as he won five in a row for the win.
Meanwhile, over on the one-loss side, Rodney Morris was working his way back to the semifinals. After three opening round matches in which he'd given up only three racks, total, Morris had been sent west by Owen in a double hill battle. Morris began his trek back with an 8-3 win over
Max Eberle
, and followed it with a hill-hill win over
Hunter Lombardo
, which set him up to meet with Stevie Moore, coming over from the winners' side final four.  
Owen, over with Moore from the winners' side final four, drew Oscar Dominguez, who, after an opening round defeat at the hands of Mike Davis, had won seven straight to get into the matches that would determine fifth and sixth place.  It was Morris and Owen advancing to the quarterfinals; Morris with a commanding 8-1 victory over Moore, as Owen ended Dominguez' seven-match streak 8-6.  In a re-match of their earlier meeting in the fourth round, Morris exacted his revenge, dropping Owen into fourth place, and turning to face Rafael Martinez, not five minutes after Deuel had gained the hot seat. 
Rodney looked to be running over Rafael, as he led the match 5-1, only to see Rafael win four in a row to tie the match at 5-5. The match would be tied at 6-6, before Rodney would regain control and take the match 8-6.
The finals also looked like it would be a one sided affair as Rodney had problems getting anything started and Deuel ran out to a 5-0 lead. Then it was Morris' turn as Deuel developed a case of the misses and Morris won seven straight games for the 7-4 lead. At 8-6, Deuel would make one more charge for the title, but a Deuel safety at 8-7 Morris left a shot for Morris and that was the tournament as Morris ran out for the 9-7 win.
Morris earned $5000 for first place, while Deuel settled for $3000. 
The Seminole Pro Tour will be in Spring Hill, Florida in two weeks at Capones and then in Atlanta Georgia on July 9 - 11 for the Gem City Classic. Both events will certainly draw all-star crowds.