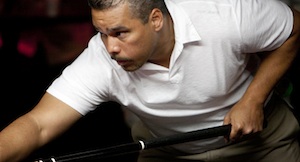 Rodney Morris (File photo courtesy of Dave Thomson - Mediumpool.com)
As quickly as Team Europe took their 4-1 lead at the Mosconi Cup, Team USA has now come back and tied the overall score at 4-4.

The first four racks saw the breaking team make a ball and run out the rack. After that, the pool gods appeared to get bored with the routine table runs and started getting involved in the matches. Three straight games got started with dry breaks that led to a 4-3 score in favor of Team Europe.
In the midst of that run, the pressure appeared to get the better of Team USA's Rodney Morris as he exchanged words with Darren Appleton and a Euro fan in the stands. After the outburst, emotions seemed to get back under control.
Team USA broke and ran the eighth rack for a 4-4 score, and a scratch on the break by Melling in rack nine allowed Team USA to the hill first at 5-4. Shawn Putnam returned the favor to Team Europe in the next rack when he scratched on the break and Team Europe leveled the score at 5-5.
The case game looked to be going in Team Europe's favor after Chris Melling played a beautiful kick with perfect speed to hook team USA. Team Europe was looking at a wide open table when Melling missed a relatively makeable ball early, and Team Europe never got back out of their chairs until it was time to shake hands with a newly re-energized Team USA at the end of the match.
Overall score is now 4-4 and Team USA is sending
Johnny Archer
out to face Nick van den Berg to break the tie.