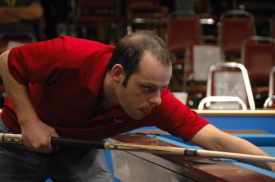 Darren Appleton
Thanks to OB Cues and CueSports International, The Action Report will have LIVE coverage of the 2009 United States Bar Table Championships at the Sands Regency Hotel and Casino in Reno, Nevada February 23-March 1.

TAR will be covering all three bar table events with ten ball up first followed by nine ball and finishing up with the eight ball event.The majority of the coverage will be free with the final day of each event being broadcast on Pay Per View for $15 per day.

Some of the best players in the world will be in attendance this year. Current World Ten Ball Champion Darren Appleton, Current Derby City Nine Ball Champion Shane Van Boening and defending USBTC All Around Champion Johnathan "Hennesse" Pinegar will be in action along with many more great players.

TAR is also working on several after hours matches that we are sure people will like. Come join us next week for some bar box action TAR style.

Many thanks to Royce at OB Cues for all of his help and support for this and many other events. We urge fans and players to support the companies that support pool and OB Cues is one of the best.