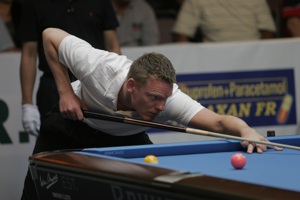 Niels Feijen is the reigning World Champion of Straight Pool
Parsippany, New Jersey- Ozone Billiards joins as the Presenting Sponsor of the 69th Annual Predator World 14.1 Championship. The Dragon Promotions event had called upon the billiard industry and patron individuals to assist with the funding of this year's event, and Ozone Billiards has joined in to help answer the call. Comet Billiards will host this year's event playing on beautiful Brunswick Gold Crown tables and using Simonis Cloth, Master Chalk, and the Laser Rack. The event will start play on August 24, 2009 and end August 29. The greatest straight pool players from around the world will arrive on USA's east coast again to New Jersey, and attend this prestigious event to play for the coveted title of World Straight Pool Champion.

This year marks the 69th World Tournament for 14.1, and stars such as Thorsten Hohmann, John Schmidt, Ralf Souquet, Danny Harriman, Tony Robles, and Mika Immonen are just a few of the powerful list of world beaters who will come to play in the greatest straight pool tournament in the world.

Due to economic hardships, many events have been cancelled this year including two World Championship events in 9-Ball and 8-Ball. Dragon Promotions along with strong support of billiard industry giants such as Predator, Simonis, Brunswick was joined by patron individual sponsors such as Stu Mattana and Harold Siegel.

"Straight pool has the longest, and richest history of all pool games. The Predator World 14.1 Championship is a very important event for the players, fans, and billiard community. That's the reason why so many people are pitching in, and so Ozone Billiards wants to do its part as well. It's an important event to keep alive" explained Shawn Gargano, President of Ozone Billiards.

"I have made many friends in billiards over the years. I love the people, the players, and I love the sport. I am happy to be able to support it. And straight pool happens to be my favorite game so I feel it's important to keep it growing" says Harold Siegel, of Excelsior Graphics. Siegel is a long time sponsor of Tony Robles and a former board member of the original UPA.

August 23, the night before the event kicks off, Comet Billiards will host a special sponsor / pro team match tournament for the patron sponsors of the event. Billiard aficionado Stu Mattana of NYC and long time billiard supporter Harold Siegel of NYC are two of this year's generous patrons of the Predator World 14.1 Championship. Their contributions are helping keeping the event going. Dragon Promotions encourages others to come on board to join as a sponsor and can be reached at worldstraightpoolchampionships@gmail.com or call 1-407-782-4978

The 2009 Predator World Straight Pool Championship is proudly sponsored by Predator Cues, Comet Billiards, Brunswick Billiards, Simonis Cloth, Ozone Billiards, Laser Rack, Master Chalk and patron sponsors Stu Mattana and Harold Siegel of Excelsior Graphics. For more information on player registration, sponsorship, or if you would like to submit a comment, please email worldstraightpoolchampionships@gmail.com or contact Dragon Promotions at 1-407-782-4978.

Ozone Billiards has been providing pool players with top quality billiard products for more than eight years. Its commitment to customer service has helped Ozone Billiards grow to be one of the largest retailers of billiard supplies in the United States. For more information about Ozone Billiards and its product lines, visit www.ozonebilliards.com

Predator Group, an international billiards industry leader, is focused on bringing constant innovation and game-improving equipment to billiards players worldwide. Headquartered in Jacksonville, Florida, USA, Predator Group's core brands include Predator Cues – high-end (professional level) cues with revolutionary technology to enhance performance, Poison Billiards – recreational cues with cutting-edge designs and Predator engineering for best-in-class playability, and Uni-Loc® – precision billiards equipment manufacturer. For more information regarding Predator Group's products, visit www.predatorgroup.com.