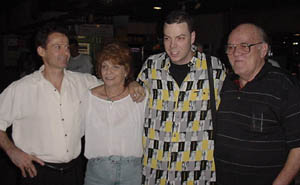 L to R, Doug hale, Pappy's manager Karen Chapman, Scott Frost, T.D. Gene Krzak
Pappy's Open marks return of "Dapper Doug" Hale
Over the weekend of March 23-24, Pappy's Sports Bar & Restaurant in Phoenix, Az held an open Nine Ball tournament that drew a full field of 64 players. Although the tournament featured a non-handicapped race-to-seven, double-elimination format, many lower-ranked players were lured into the competition by the very low entry fee ($5.00), plus the $1,000 added by Pappy's.
The tournament also lured many A and B class players, headlined by current world-beater Scott Frost, and underscored by the return to competition of one of Arizona's all time favorite players, none other than "Dapper Doug" Hale.
Over the course of this two-day event there were several upsets and surprises such as young B-minus player Jason Cain sending A player Jimmy Mendoza home and then finishing in 7th/8th place, while B-plus player Tom Strege showed his A game throughout the tournament by knocking Doug Hale into the losers bracket and then ending up in 3rd place.
Perhaps the biggest "surprise" of the tournament, though, was Doug Hale, himself. After a layoff from competition of over two years, Doug showed little signs of ring rust as he fought back to earn another meeting with Strege in which he turned things back his way, and thereby set the stage for the much anticipated showdown and finale between he and the powerful A-plus player Scott Frost.
The final was a single race to thirteen games and the match seesawed back and forth with both players trading brilliant shots, safeties and run outs until Dapper Doug caught a little gear and closed things out with a 13 to 10 victory.
Thanks for a great show, Doug…and WELCOME BACK!
Final results:
1st $310 Doug Hale
2nd $200 Scott Frost
3rd $150 Tom Strege
4th $100 Mike Williams
5th/6th $ 75 Greg Williams, Tyson Cole
7th/8th $ 50 Tony Confalone, Jason Cain
9th-12th $ 30 Bob Klimas, Gus Bresenio, Marvin Valdez, L. Banks
13th-16th $ 10 Bill Dunsmore, Jody Amundson, Jimmy Mendoza, Ron Merseal