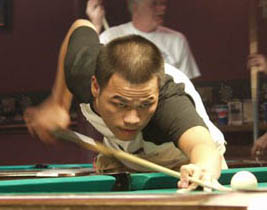 Pooky Rasmeloungon
Pooky Rasmeloungon emerged from an all-star field to win the Seminole Florida Pro Tour stop at Capones Billiards in Spring Hill, Florida.
As is the case with most Florida Pro Tour events, the field for this one was packed with talent including Rodney Morris, Buddy Hall, Charlie Williams, John Schmidt, Tommy Kennedy and Troy Frank. As strong as the field was, it was Neil Fujiwara who earned a hill-hill win over Pooky Rasmeloungon for the hot-seat. Rasmeloungon had the hot-seat in his sites with a miscue on the 8-ball gave the case game to Fujiwara.
Rasmeloungon bounced back with a dominating 8-4 win over Robb Saez on the one-loss side to earn another shot at Fujiwara in the finals.
The finals were almost as close as the first set, but this time it was Rasmeloungon scoring a 9-7 win for first place.
Rasmleoungon earned $4000 for first, while Fujiwara took home $2000 for second place. Saez and Troy Frank filled out the top four spots.
The Seminole Florida Pro Tour will be at Player's Billiard Club in Melbourne, Fl on May 7th-8th for their next event.
Complete Results:
1st Pooky Rasmeloungon $4000
2nd Neil Fujiwara $2000
3rd Robb Saez $1500
4th Troy Frank $1200
5th/6th Charlie Williams, Josh Degler, $900
7th/8th David Broxson, Tommy Kennedy $600
9th/12th Butch Croft, Steve Knoll, Wayne Catledge, Ray Martin $450
13th/16th Bill Ferguson, John Schmidt, Tony Crosby, Richie Richeson $300
17th/24th Brian Davalos, Brian Butler, David Grossman, Buddy Hall, Ben Conway Jr, TF Whittington, Rodney Morris, Daniel Tietze $150
Photo courtesy of Diana Hoppe - Pool Pics By Hoppe