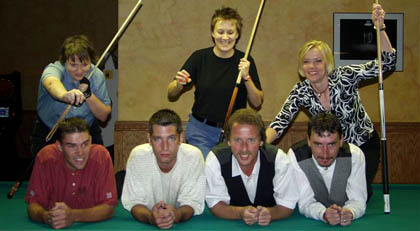 Stars from the billiards world joined forces with stars from Professional Football and Basketball for the 1st Annual Atlantic Billiards Pro-Am 9-ball Tournament on Saturday, June 28th at The Pool Room in Marietta, Georgia. The event was held to raise funds for The Leon Bender Foundation which promotes epilepsy research.
The roster of billiards stars was a virtual "who's who" of top male and female players. Earl Strickland, Johnny Archer, Corey Deuel and Michael Coltrain joined Allison Fisher, Helena Thornfeldt and Monica Webb from the WPBA. Also appearing was The Pool Room's instructor Okinawa Slim and Wheelchair Champion Mark Jones.
Joining them, were Jerry Butler and Dewey McClain from the Atlanta Falcons, Jim Nementh from the Baltimore Colts, Gary Burley from the Cincinnati Bengals, Ed Wilder from the San Diego Chargers and Rodney Martin from the Charlotte Hornets. There was even an appearance by Meredith Boyd, the 2003 Mrs Georgia winner.
The event included a scotch doubles tournament and various raffles, including one raffle for a brand new custom table. The players arrived at the event in a stretch limo and were escorted down the red carpet to begin the event. A total of $12,000 was raised for the Foundation, and a good time was had by all.
Check out our online photo gallery for pictures of all of the festivities.
Photo courtesy of Diana Hoppe - Pool Pics by Hoppe