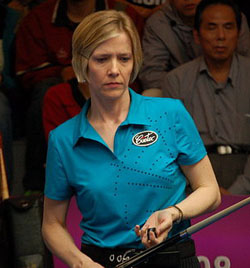 Fisher will face Sarah Rousey next
The WPBA US Open 9-Ball Championship is underway at the Riverwind Casino in Norman Oklahoma and the first big upset has already occurred. Top seed Allison Fisher has been sent to the one loss side in round one by Filipino sensation Iris Ranola.

According to the WPBA website, Fisher scratched on an 8-ball at hill-hill to lose the match to Ranola.

Ranola will face Aileen Dimmick in round two, while Fisher falls to the one loss side and will face Sarah Rousey next.

In another upset on day one, Melissa Herndon lost to Morgan Steinman 9-5. Steinman will face Susan Williams on the winners side, while Herndon takes on Arizona's Dawn Hopkins.

Complete brackets for this event are available online at the WPBA website.