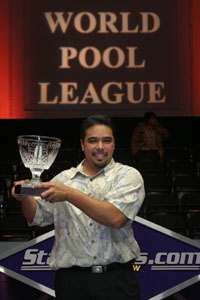 Rodney Morris
On Aug 20, 2005 , Trick Shots of Waterford Lakes will host The 2005 Predator Challenge Match Tour . Pocket billiard powerhouses Rodney "Rocket" Morris and Charlie "Korean Dragon" Williams will face each other in the first of a series of Challenge Matches produced by Dragon Promotions.
Rocket Morris, 5 ft 10 in & 240 lbs, is currently ranked top 10 in the USA and recent Bronze Medalist at the World Games will take on 5 ft 8 in 147 1/2 lbs Korean Dragon Williams who is ranked top 5 in the USA and former BCA Open and Korea International Champion. Despite the sizeable difference in size, both players have a pretty close track record in tournaments with each other. Williams is sponsored by Predator Products & Brunswick Billiards and both players are managed by Dragon Promotions.
Fans attending Trick Shots on Saturday will be treated to a trickshot show, challenge games , and a finale pro style challenge match.
Sponsors of the event include:
Trick Shots
Predator Cues
Simonis Cloth
Tiger Tips
Sardo Tight Rack
Brunswick Centennial Balls
Brunswick Chalk
Dragon Promotions
Trick Shots is located in the Waterford Lakes area of Orlando. Trick Shots also has 3 other locations within Central FL and has been voted several times as one of Billiards Digest's Top Pool Rooms in the USA. http://trickshots.impactprogram.com/waterford.shtml
For more info on the event and the event flyer please goto www.dragonpromotions.com