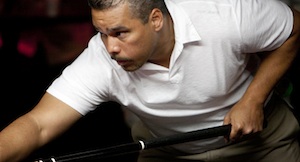 Rodney Morris (File photo courtesy of Medium Pool)
Day eight of the Derby City Classic wrapped up with a new Fat Boy 10-Ball champion, round six of the 9-ball event, and three players remaining in the straight pool challenge. Of the original 293 entrants, only 45 will return on the final day to vie for the 9-ball title. Still with unused buy-backs are
Warren Kiamco
, Huidji See,
Dennis Orcollo
, and one-pocket champ and runner up,
Shane Van Boening
, and
Earl Strickland
.
This year's Fat Boy 10-Ball Challenge saw the face of a new champion. It was a Mosconi Cup rematch as "The Rocket"
Rodney Morris
defeated
Darren Appleton
in the finals 15 to 11. The 2010 DCC 9-Ball runner-up took the title by way of a 15-10 victory over Lee Van Corteza and 15-12 win over Neils Feijen. Morris received $9,000 for his efforts. The $10,000 added prize fund is courtesy of "FatBoy" Eric Petersen and Diamond Billiards.
In the Straight Pool Challenge, Feijen defeated Minneapolis professional,
Beau Runningen
. Runningen pocketed four balls and had two fouls, before Feijen ran 91 and out. He was permitted to continue his run in attempt to reach 200 or beat the Appleton's current high run of 183 but his run ended at 98. Feijen is set to play Appleton in the semi-finals.
On the other side of the bracket, banks champion
Alex Pagulayan
defeated Florida's
Mike Davis
100-89. Both players each took an 18-ball 3-foul and re-rack at one point in the match. Pagulayan was at 97 three times before finally, Davis missed a combination at 89, giving Pagulayan his final three balls for the match.
This $10,000 added event was made possible by Diamond Billiards, Bob Jewett, Angel Levine, Stu Mattana, Ultimate 10-Ball Challenge, and
Richard Burns
.
Tune in to Accu-stats.com for your live streaming action all week. The AzBilliards 2011 DCC Coverage page was made possible by CueBallTracker.com and PoolDawg.com.