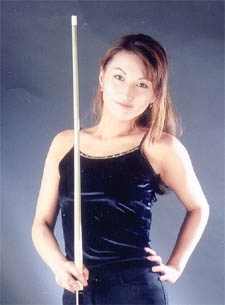 Miyuki Sakai
A field of 38 players made their way to Legends Billiards in League City, Texas for this weekend's Hunter Classics Women's Tour stop. That field has been narrowed to eight players with four of them eligible for the WPBA qualifier.
On the winners side, Miyuki Sakai will take on Michelle Cortez and Tara McCracken will face AzBilliards's own Melinda Bailey. Sakai, fresh off her 17th place finish at the Central Florida Pro Open last week, is fighting for the WPBA qualifier.
On the one-loss side, Leslie Anne Rogers will play Helen Hayes and Orietta Strickland will play Heather Pulford. Rogers won the last Hunter Tour event, but fell to the one-loss side when she missed a 9-ball at hill-hill against Bailey.
While not playing in the event, Hunter Tour regular Lisa Marr made an appearance at the event to see her old tourmates. Marr is no longer eligible to play on the tour due to her WPBA touring pro status.