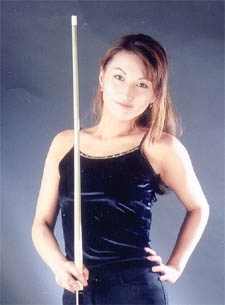 Miyuki Sakai
Miyuki Sakai went undefeate to win the Southeast Amateur Ladies Tour event at Mr. Cues II in Atlanta, GA this weekend.
Sakai took the hot-seat with a 7-5 win over Ellen Van Buren and then waited for an opponent in the finals.
Van Buren took a short trip to the one-loss side where she eliminated Tracie Hines 7-4 to earn the rematch with Sakai in the finals.
Sakai went on to win the finals 9-4 to earn the $405 in prize money and WPBA qualifier that was up for grabs. Van Buren setttled for $316 in prize money. Hines and Betty Sessions filled out the top four spots.
The Southeast Amateur Ladies tour will be at J.O.B. Billiards in Madison, TN on November 6th-7th for their next stop.