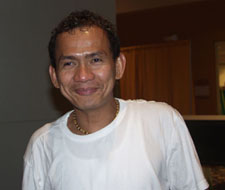 Santos Sambajon
Santos Sambajon won the One Pocket Division of the Hard Times Summer Jamboree at Hard Times Billiards in Sacramento.
Sambajon took the hot-seat with a 3-0 whitewash of The Freezer, Scott Frost. Frost went to the one-loss side and handed Billy Palmer his second loss 3-1. Palmer's only losses in the event were both to Frost.
The finals were a single race to four, and Sambajon took this match 4-2 for the tournament win.
Sambajon collected $2500 for first, while Frost settled for $1250. Palmer and Alex Pagulayan filled out the top four spots. Sambajon will not try to win the $1000 bonus for any player that can win both the one-pocket and nine-ball divisions. The nine-ball division gets started on Friday. Full brackets are online for the one-pocket division.
Photo courtesy of Diana Hoppe - Pool Pics by Hoppe