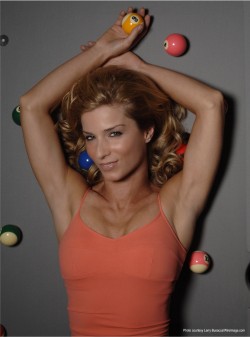 Jennifer Barretta
Seybert's Billiard Supply- Coldwater Michigan is proud to announce their official sponsorship of Jennifer Barretta, A top WPBA ranked billiard player.
Jennifer is a young touring pro with the WPBA women's professional billiard association and has the talent and ambition to become a household name in the near future. Jennifer is a previous tennis player and fitness pageant winner that has used her movie star looks to open many opportunity doors. Jennifer has been voted into ESPN's 25 Sexiest female athletes of 2005 and featured in many international and trade magazines.
Jennifer has been recently cast as the star in an upcoming pool movie "9 Ball" being produced by Main Street Productions. Cast as Gail a young woman who wants to become the Women's 9 ball Champion of the world, it is a close similarity to the desire and drive of Jennifer Barretta. With the raw natural raw talent that Jennifer possesses most all feel certain that her character of Gail in the movie 9 ball will ring true when Jennifer reaches her goal as the Woman's 9 ball champion of the world.
Seybert's Billiard Supply is also a young and ambitions company that is taking the billiard supply industry world wide by storm. "In less than 10 short years Seybert's has taken a hobby of the owners on to become the world's sales leader with Predator cues as well as one of the largest dealers with Pechauer, Viking, McDermott as well as Lucasi and Joss.
Per Sid Kreis, President of Seybert's Billiard Supply, "Commitment and talent has helped Seybert's Billiard Supply into becoming a world leader in the Billiard Supply industry. Jennifer Barretta has shown those same traits in her strive to become a champion in the Billiard world. We feel joining up with Jennifer is a natural fit for both parties concerned and look forward to the things that are to come in the future." Seybert's Billiard Supply can be reached at www.seyberts.com and Jennifer Barretta's website can be viewed at www.jenniferbarretta.com