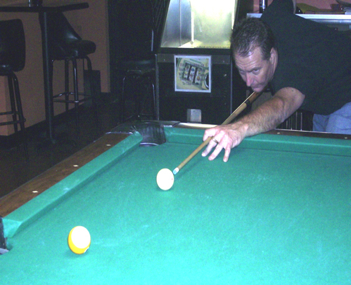 Steve Knoll
The fourteenth stop of the 50-stop 2008/2009 Pechauer All American Tour (produced by the American CueSports Alliance – ACS) was hosted at Q's Sports Bar & Girl in Port Charlotte, FL, on Saturday, November 15. The $500 added event featured 14 players in a double-elimination 8-ball format on 7-foot bar boxes. Trey Jankowski (North Port, FL) claimed the hot seat by outpointing Glenn Olson (Naples, FL) 7-3 in the A-side finals. Previously in the A-side semifinals Jankowski clipped Randy Smith (Clearwater, FL) 7-5, while Olson dominated Buddy Folberth (St. Petersburg, FL) 7-1. But the eventual tourney winner emerged from the B-side bracket. Once-beaten Steve Knoll maintained his momentum by eliminating Ted Otakan (Port Charlotte, FL) 7-4 at 4th place, Glenn Olson 7-3 at 3rd place, and claiming the title by eclipsing Trey Jankowski 7-4, 7-3 in the finals!

By virtue of Steve Knoll being the highest-finishing ACS member in the event, he qualified for a free 9-Ball singles entry into the 2009 ACS Nationals in Las Vegas – courtesy of the ACS. The ACS wishes to thank sponsors J. Pechauer Custom Cues, Championship Billiard Fabric, Nick Varner Signature Cases and oZone Billiards for their support in donating "Value-In-Kind" product for this and all stops on the Pechauer All American Tour. Sponsorship opportunities are still available for the 2008/2009 All American Tour by contacting the ACS.

The Tour moves to Billiards on Main this Saturday, November 22 for a $500 added 8-Ball stop in Galesburg, IL (contact Mark Hammerl at 309-342-7665). Further information, entry details and schedules for the 2008/2009 Pechauer All American Tour are available at www.americancuesports.org.