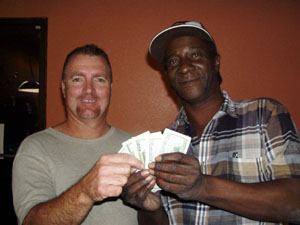 Steve Knoll (L) celebrates with Willlie McBride (R)
The Fire Cracker 8 Ball Tournament, the final stop of the 2006/2007 McDermott All American Tour at Q's Sports Bar and Girl in Port Charlotte, Florida, brought a seasoned group of eighteen exceptional pool players together. Matches pitting Master men, Open men, and Open women 8 ball players together for the $840 in prize monies - which included $300 added to the tournament by Q's - showcased one of the area's toughest recent competitions.
Master men played to six games, while open men played to 4, and women played to 3. This leveled the playing field so that all the prize money was up for grabs for every competitor. The double elimination tournament quarterfinals saw master player Paul Bramwell (West Palm Beach, FL) defeat Larry Fife (Punta Gorda, FL) and send him to the one loss side. Ken Coulter (North Port, FL) also sent Shawn Collie (Port Charlotte, FL) to the one loss side in a closely fought match. Master players Steve Knoll (North Port, FL) and Glen Olsen (Naples, FL) struggled through a difficult match which sent Olsen to the one loss side, while Shaun Jones (Palm Beach, FL) defeated Chris Machuga (Cape Coral, FL) to advance.
On the one loss side the top finishing woman, Kelli Knoll (North Port, FL), finished 7/8 after suffering a frustrating 4 to 1 defeat at the hands of Shawn Collie. Travis Laswell (North Port, FL) defeated Trey Jankowski (Port Charlotte, FL) to advance to the money.
The winner's-side semi finals saw Ken Coulter drop to the one loss side at the hands of Paul Bramwell in a 6 to 2 defeat, while Steve Knoll crushed Shaun Jones in a 6 to 0 sweep.
On the one loss side Shawn Collie eliminated Shaun Jones into 5/6 place, and Ken Coulter defeated Travis Laswell to place him in the other 5/6th spot.
The winner's side finals matched two master players with Steve Knoll playing consistent run-out pool to defeat Bramwell 6/1.
On the one-loss side Ken Coulter met his demise, as Shawn Collie got his revenge in a 4/2 defeat of Coulter - taking 4th place. Collie proceeded to eliminate Paul Bramwell 4/2 which placed Bramwell in the 3rd position.
The tourney finals pitted open player Shawn Collie against undefeated master player Steve Knoll. Collie had to defeat Knoll twice for first place in the double elimination format. The first set reflected Collie's stamina and determination as he defeated Knoll 4/4. The second match demonstrated the seasoned master player's tenacity and skill, as he overwhelmed Collie 6 to 0 for the title. As the top finishing ACS member, Steve Knoll, won a paid 9-ball singles entry into the 2008 ACS Nationals in Las Vegas. A donated McDermott cue stick was raffled and went to local player Mark Porfilio.